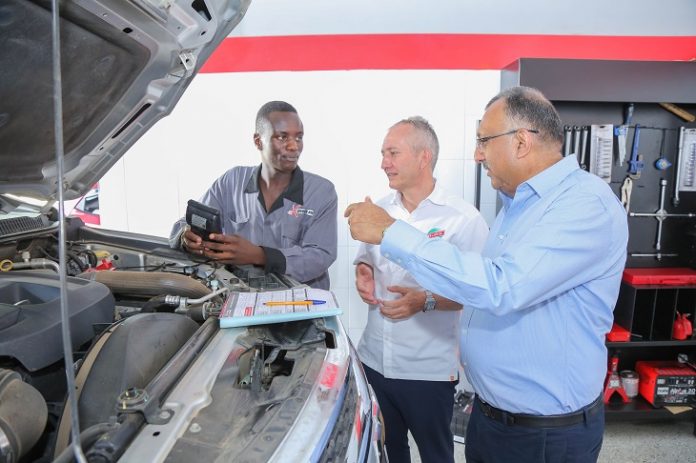 ---
XpressFit is a franchised Tyre and Auto Service workshop concept developed jointly by AutoXpress and Rubis specifically for fuel stations. This partnership represents a joint commitment to deliver efficient, high quality, modern and trustworthy services to Kenyan motorists.
XpressFit will become a key part of the Rubis Energy Kenya network, by giving their customers a convenient option for the servicing and maintenance of their vehicles.
AutoXpress has leveraged its 60+ years of experience in the automotive industry ensuring XpressFit provides its customers with high quality and trustworthy services.
XpressFit will provide consumers the opportunity to purchase quality products from some of the best-known global brands in the automotive sector. "Our tire range includes Goodyear, Dunlop, Nexen, and Blackhawk. Our oil servicing and mechanical range include Castrol lubricants, Asimco brake pads, NGK spark plugs, Freebatt batteries, and Bosch wiper blades."
Rubis Energy has 450 service stations across East Africa and has a vision of creating a unique ecosystem where customers find all the products and services they need with convenience. XpressFit, the latest addition to the Rubis value-added offerings, is open at Rubis Thome, Rubis Enterprise, and Rubis Athi River stations.
"Rubis Energy is committed to making your life's journey better, creating convenience, and bringing the highest standards of products and services to its customers. Our ambition is to open 50 XpressFit outlets across East Africa by 2027 for an investment of about USD 5 million. We are excited about this new venture which will create over 300 new job opportunities for Kenya and its neighboring countries" said Jean-Christian Bergeron, CEO East Africa, and Group Managing Director, Rubis Energy Kenya.
Rubis Energy Kenya's other value-adding offerings available at their service stations include the Enjoy convenience store, Brioche – a French-inspired bakery, the Rubis Card, and Rubis Ultra Tec premium fuel.
"The automotive parts & services business has been part of AutoXpress' DNA since its inception in 1958. AutoXpress is excited to extend its expertise through its franchise, XpressFit, allowing motorists access to quality parts & service at more convenient locations. We have a well-trained and highly skilled team that will deliver exceptional service" said Sandeep Shah, Group Managing Director, AutoXpress.