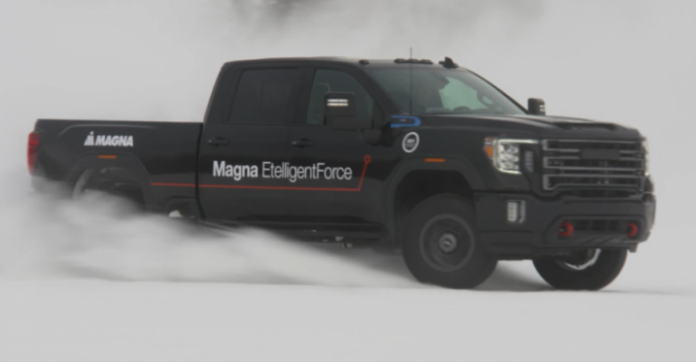 ---
Magna International, one of the world's largest automotive suppliers and the largest manufacturer of all-wheel- and 4-wheel-drive systems for vehicles of all types and sizes, has seen the industry electrifying – transitioning to gas-electric hybrids, plug-in hybrids and full battery-electrics – as fast as development budgets and the market will allow.
So it is jumping on board that fast-moving train and is working hard to move to the front with electrically driven componentry designed to replace today's conventional AWD and 4WD hardware with noticeable improvement in function and no loss of capabilities.
Fully 70% of its engineering projects these days are related to the EV market. Magna projects that global OEMs will spend some $500 billion on EV and battery development by 2030.
"Anyone who is in powertrain has to be thinking about transitioning toward eDrives," says Magna CEO Swamy Kotagiri. "Among our priorities are minimal change to the product and not having to change the manufacturing process. Another piece is capabilities…how much modularity and scalability can we have, and can we add additional features down the road?"
For battery-electric pickups (Classes 1-3) and light-commercial vehicles, Magna is busily developing EtelligentForce, a comprehensive electric 4WD system "designed to maintain the full capabilities of these vehicles with uncompromised payload and towing." It consists of an "eBeam" rear-axle electric-drive system combined with an eDS (electric drive system) Mid+ (indicating power level) front electric-drive system with optional decoupling electronically managed and connected by software controls.
The eBeam primary rear axle (inset) fits in the same space as a conventional beam axle, delivers up to 250 kW of power and is structurally robust to deliver up to 7,376 lb.-ft. (10,000 Nm) of torque for heavy-duty pickup usage. It is adaptable to current suspension systems, allowing sufficient clearances for full suspension travel, can incorporate different final-drive ratios and has an e-Park lock and an optional electric-locking differential.
The eBeam's permanent synchronous motor (PSM) incorporates hairpin windings and is dual-cooled (oil and coolant) for continuous usage. Its inverter uses silicon (Si) or silicon-carbide (SiC) power electronics. It comes in 400V and 800V versions and can be mounted on the axle or remotely.
The eDS Mid+ secondary axle – suitable for both HEVs and BEVs – delivers 170 kW of power and up to 2,781 lb.-ft. (3,770 Nm) of peak torque to the front wheels from a high-efficiency PSM motor. It offers a boost option for higher power and torque on demand, its integrated inverter also uses either Si or SiC power electronics and it can be decoupled.
Magna currently supplies an 80kW "eDS Low CE" (cost efficient) compact secondary boost drive system that powers the front axle of the otherwise RWD Volkswagen ID.4 and Audi Q4 50 e-tron CUVs. It delivers up to 1,158 lb.-ft. (1,570 Nm) of torque with claimed best-in-class drag loss.
Magna recently provided test drives of an EtelligentForce-converted '20 GMC 2500 truck vs. an otherwise equivalent internal-combustion-powered 4×4 pickup on a variety of dry, snow and ice surfaces at the Brimley Development Center winter test facility in Michigan's Upper Peninsula. The BEV development truck's engine and drivelines were replaced by Magna's rear primary and front secondary electric drive systems.
"It's a drop-in system that doesn't change the architecture of the truck," says Ryan Shaw, who manages Magna's North American Advanced Engineering Group. "It will allow OEMs to assemble them without major changes, including to the suspension."
The electric truck delivers stronger acceleration – 0-60 mph (97 km/h) in 4.6 sec. and a 13.7-second quarter mile at 99 mph (159 km/h) – on dry pavement and operates much more smoothly and quietly than the equivalent ICE truck. It accelerates with none of the driveline catching and clunking typical of a mechanical system distributing torque rear-to-front-and-back seeking traction through its transfer case.
The electrified Magna system also offers improved slick-surface control as its systems smoothly and imperceptibly allocated torque from its front and rear motors. "You can do things with axle speed control that you can't with conventional 4WD," Shaw explains.
"The differentiation for Magna is our knowledge of integration," Kotagiri says of the Magna systems' competitive advantages. "What you saw today when you drove these vehicles is not just the eDrive but also the integration of it with the software controls that made that truck drive like a conventional truck, only better. That is the magic sauce. With Magna Steyr, that part of Magna that manufactures complete vehicles for OEMs, we are the largest independent vehicle manufacturer in the world. And because we work on engineering projects both for and with OEMs, we understand completely the powertrain, chassis and other vehicle technologies."
We also tested an AWD VW ID.4 on snow and ice, including on partially ice-covered grades, and found its slick-surface performance limited only by the traction available to its stock tires. We were already fans of this electric AWD CUV's dry road handling and performance and were pleased to learn that it loses none of that smile-inducing capability on winter roads.
While Magna says its eBeam/EtelligentForce electric-truck system likely will not be ready before 2025, we should start seeing more production applications of its other electric drive systems by later this year. "We will be in production with three OEMs in a short time, this year or next," Kotagiri says, "but I can't identify them at this time. We are working with many OEMs, both traditional and new entrants, from all different parts of the world."