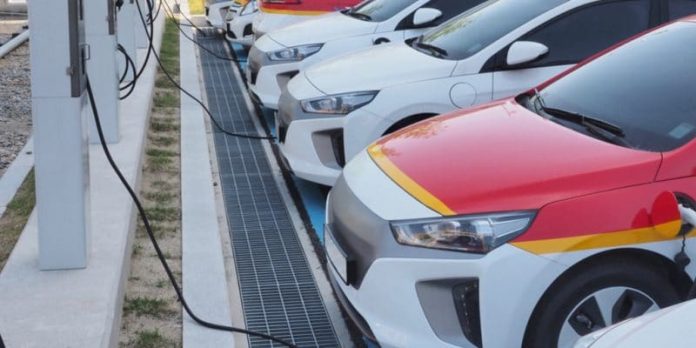 ---
Egypt has signed two agreements with China's Dongfeng Motor Corporation to reconstruct the factory of Nasr Automotive Manufacturing Company, from the Ministry of Public Enterprise Sector, to produce the first electric car in Egypt.
Minister of Public Enterprise Sector Hisham Tawfik commended in his speech, during the signing ceremony held via video conferencing, the depth and strength of relations between Egypt and China, which have witnessed remarkable growth over the past years, the Egyptian cabinet said in a statement.
"Today marks the beginning of the launch of Nasr towards the project of localizing the electric car industry in Egypt," Tawfik said.
"This project aims to preserve the environment by reducing dependence on fossil fuels and thermal emissions that have a negative impact on people and the economy, as it represents keeping pace with the increasing global trend of electric transport," he explained.
The signing included a framework agreement for the production of the electric car in Nasr in cooperation with Dongfeng, which is one of the 4 largest car manufacturers in China that produces about 3.5 million cars annually with its main partners in the auto industry worldwide, he mentioned.
The signing included an agreement to renew the factory of Nasr with the latest technologies and production methods, he pointed out. An agreement is currently being made to establish a research and development center with Dongfeng and Egyptآ's Brightskies Technologies company, he added.
The project aims to produce 25,000 cars annually in one shift, and according to market studies, it is expected that the volume of demand will increase with the expected governmental support and incentives to double this amount, he mentioned.
After proving its worth in the local market, the project aims to benefit from export opportunities to the regional market, he said, underlining that it is intended to start production at Nasr within a year from the date of this signed agreement.
Meanwhile, Chinese Ambassador to Cairo Liao Liqiang commended in his speech the fruitful and continuous cooperation between Egypt and China, one of the manifestations of which is the framework agreement between Nasr and Dongfeng.
He underscored the importance of supporting cooperation between Egyptian and Chinese companies, as well as moving towards using clean energy and localizing the technology of electric cars in Egypt.