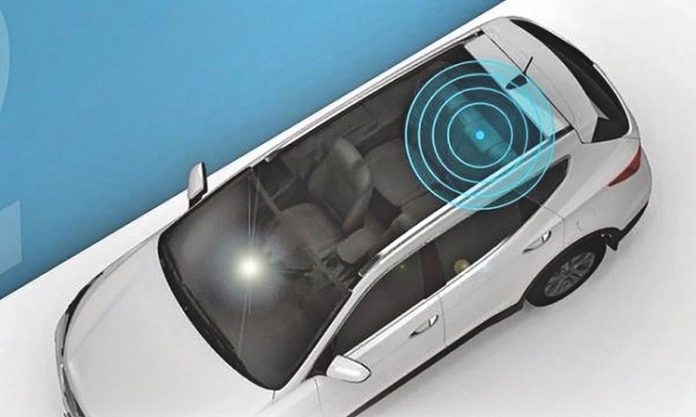 ---
Vayyar is one of several vehicle technology suppliers working on child presence systems, as well as other forms of driver and occupant monitoring.
Such features already were attracting interest from consumers as vehicles take on more automatic safety tasks. But the prospect of new regulation for the technology is speeding up detection system development, according to interviews with suppliers here.
Some automakers already offer features aimed at reducing the likelihood that someone could accidentally leave a child unattended in a back seat. General Motors was an early mover, introducing what it calls Rear Seat Reminder in 2016 with the 2017 model-year GMC Acadia, and then adding it to a long list of other models for 2017 and 2018.
The GM system is triggered when a rear door is opened and shut close to the time the car is started or while the car is running. The next time the car is shut off, the system sounds a chime and displays a message in the driver information center that reads "Rear Seat Reminder / Look in Rear Seat."
Nissan North America added what it calls Rear Door Alert in 2017, starting with the 2018 Nissan Pathfinder. It plans to roll out the technology to all of its four-door models by the 2022 model year.
Nissan's version also is activated by use of the back door. Besides a message in the instrument panel, Rear Door Alert honks the horn.
Sensors detect occupant
Hyundai Motor America offers an optional feature it calls Rear Occupant Alert, starting on its 2019 model year Santa Fe and 2020 Palisade. It uses "door logic" like GM and Nissan, but adds ultrasonic sensors in the vehicle's headliner to detect movement in the rear seats. It also sends the driver a text message if there is no response to visual or audio alerts.
In the mushrooming Israeli auto technology sector, where some companies have roots in national defense and advanced security industries, still-more sophisticated systems are now in development. Instead of relying on door sensors, newer approaches incorporate visual or radar-type sensors in the front-seat headliner that detect the presence of a person in the back seat. The sensors are so precise they can identify an occupant by detecting a heartbeat. That will mean the safety system is aware of a person's presence even if their face is not visible, for instance when a baby is quietly sleeping in a rear-facing child seat.
According to Ryan the 2019 HOTCARS House bill doesn't tell automakers what technology to use, but its language has been updated to reflect the newer technologies.
Tel Aviv-based Guardian Optical Technologies was founded in 2015 specifically to tackle hot-car deaths, said CEO Gil Dotan. The prospect of regulatory mandate is helping Guardian reach potential customers. Its technology uses an optical sensor that detects tiny movements — as small as one-millionth of a meter — and which are sensitive enough to pick up an infant's heartbeat.
In the company's earlier days, Dotan said, it was a "the naive young team" who assumed automakers would automatically embrace the technology.