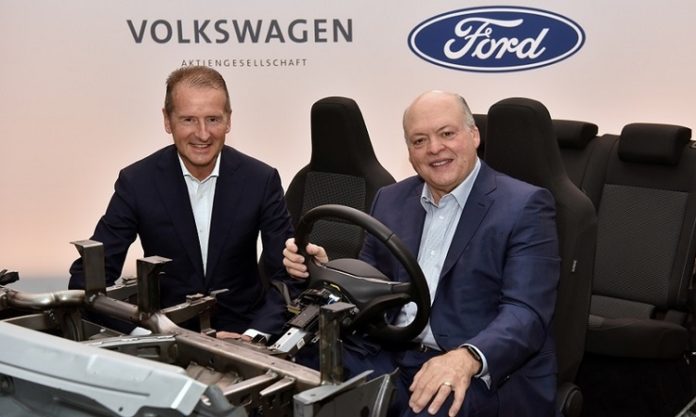 ---
Under the terms announced
Ford will use VW's modular electric toolkit, known as MEB, to design a new battery-electric vehicle for its European operations. It will be designed and developed at Ford's development center in Merkenich, near Cologne, Germany.
Analysts at Citi said Ford's licensing of Volkswagen's MEB platform was a "transformational" step for both companies. "It likely provides VW with an unassailable scale advantage," Citi analyst Angus Tweedie said in a note published on July 10.
VW has invested $7 billion in its MEB architecture since 2016. It plans to use MEB to underpin about 15 million cars for its VW, Audi, Skoda and Seat brands including hatchbacks, sedans, crossovers and minivans in the next decade, starting with the Golf-sized VW ID3 that will debut at the Frankfurt auto show in September.
With Friday's announcement, Ford becomes the first global automaker to agree to license VW's MEB toolkit. VW's Diess said Ford would pay VW "set by set" for the use of VW's electric vehicle components. The cooperation with VW on electric vehicles in Europe is part of Ford's previously disclosed $11.5 billion EV investment worldwide.
Hinrichs said the VW collaboration would not affect Ford's plans to launch two new electric vehicles in the United States, including a battery-powered version of the F-150 pickup and a new Mustang-inspired crossover vehicle that is expected to be called Mach E.
Suppliers familiar with Ford's plans say the automaker is developing a broader portfolio of electric vehicles, most of them crossovers that will carry the Ford and Lincoln brands, for North America and China. Many of those models will be built on an updated version of Ford's C2 global compact platform, they said.
It was not clear if some of those future Ford EVs could migrate to VW's MEB platform, versions of which the German automaker will build in Europe, China and North America.
Autonomous hub Munich
VW will invest $2.6 billion in Argo AI, with $1 billion in direct funding. VW Group's Munich-based Autonomous Intelligent Driving (AID) unit, led by Audi and valued at $1.6 billion, will become Argo's new European headquarters. AID has about 200 employees, with most working on developing self-driving technology for VW Group. The combination will give Argo AI over 700 global employees.
Argo AI is focused on developing a Level 4 self-driving system primarily for ride sharing and goods delivery vehicles in dense urban areas. VW will purchase $500 million in Argo AI shares from Ford over three years. Ford will invest the remaining $600 million of its previously announced $1 billion cash commitment in Argo AI.
Diess said the Argo platform was "the best solution for Volkswagen" to speed self-driving vehicles to market, and that Ford and VW together intend to make that platform "a global industry standard."
Together, the transactions will make Ford and VW equal partners in Argo AI, placing a value on the Pittsburgh-based tech company at $7 billion. The two automakers will hold the vast majority of Argo AI's shares, with the remainder to be used as an incentive pool for Argo AI's employees.
Hackett and Diess emphasized the benefits and synergies the additional scale of working together on expensive EV and AV technologies can bring.
Hackett said that while VW and Ford remain independent and "fiercely competitive in the marketplace, teaming up and working with Argo AI on this important technology allows us to deliver unmatched capability, scale and geographic reach. Unlocking the synergies across a range of areas allows us to showcase the power of our global alliance in this era of smart vehicles for a smart world."
Diess said that adding Ford to its ambitious global EV plans will drive down development costs further, and make EVs more affordable.
Ford and VW agreed in January during the Detroit auto show to work together on development of midsize pickups and commercial vans for use outside North America. At the time, both Diess and Hackett said further collaborations were under discussion.
The automakers' collaborations in midsize pickups and commercial vans will proceed apace, with Ford agreeing to source and build a midsize pickup to replace the aging Volkwagen Amarok in Europe, Africa, the Middle East, South America and Asia beginning in 2022. Of nearly 350 models across its many brands around the world, the Amarok is the only light-duty, body-on-frame vehicle Volkswagen builds.
Regarding commercial vans, Ford will design and build a large commercial van for both companies, beginning in 2022, for European customers, while Volkswagen will do the same for a city van for Europe and "other select global markets."