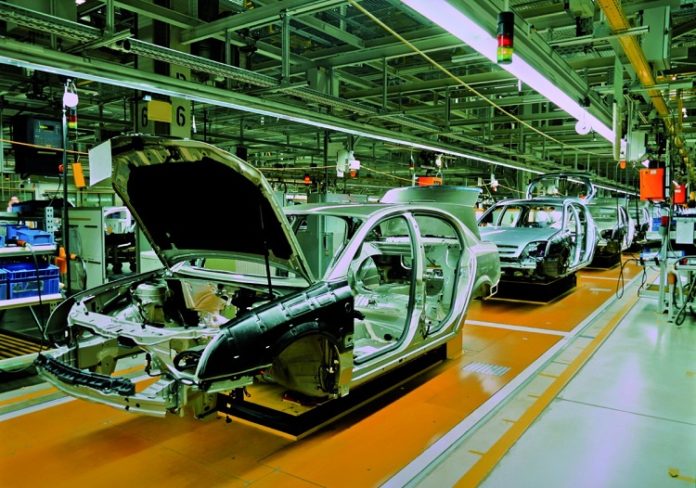 ---
Automotive exports from South Africa had a positive 2018, setting a number of new records on the way up. In doing so, the industry managed to compensate for some of the losses seen in the South African new-vehicle sales market last year as the domestic economy continued its uphill battle, says National Association of Automobile Manufacturers of South Africa (Naamsa) and Automotive Industry Export Council executive manager Dr Norman Lamprecht.
Currency movement did not influence the numbers significantly, as the rand remained relatively stable against major currencies in 2017 and 2018, notes Lamprecht. Instead, the local automotive industry's performance can be attributed mainly to the record 351 139 left- and right-hand-drive vehicles exported from South African plants in 2018, at a record export value of R127.5-billion.
This is a 4% increase on the 338 096 units exported in 2017, at a value of R115-billion. Lamprecht says 2018 exports were boosted by the start of production and export of the Volkswagen Polo and the BMW X3 sports utility vehicle (SUV), as well as a number of new derivatives at other vehicle producers.
"Small cars and SUVs are two of the most popular categories in the world in terms of new-vehicle sales, which lifted exports from Volkswagen and BMW," he explains.
Automotive components exports from South Africa did not achieve quite the same level of success, increasing by 2% from the R50.3-billion recorded in 2017 to R51.3-billion in 2018. Total motor industry exports comprised 14.3% of all South African exports in 2018, says Lamprecht, up from 13.9% in 2017.
In stark contrast, the domestic new-vehicle market failed to mirror any of the success achieved in the export market in 2018. South African new-vehicle sales declined by 1% to 552 226 units, from the 557 703 units sold in 2017.
6.8% of GDP
Total automotive revenue within the ambit of the automotive business sphere in South Africa, which includes new and used vehicle sales, and parts sales, as well as repairs, amounted to R503-billion in 2018.
As the largest manufacturing sector in the country's economy, vehicle and components production accounted for 29.9% of South Africa's manufacturing output in 2018, down from 30.1% in 2017.
The broader automotive industry's contribution to gross domestic product comprised a significant 6.8% (manufacturing 4.3% and retail 2.5% ), slightly down from the 6.9% recorded in 2017.
Lamprecht says the motor industry in South Africa continues to reflect how automotive policy and foreign direct investment combine to positively benefit the country's economy.
Government recently extended its Automotive Production and Development Programme from 2021 to 2035, providing policy certainty that should stimulate continued investment from most of the world's major vehicle producers in South Africa, he notes.
South Africa hosts production plants owned by Ford, BMW, Mercedes-Benz, Toyota, Isuzu, Nissan and Volkswagen.
Top Spots for Germany and UK
The domestic automotive industry's top 2018 export market in value terms (components and vehicles) was Germany, at R57.6-billion.
This was also the first time the export value to a single country exceeded the R50-billion mark, notes Lamprecht – another record. Germany was followed by Japan and Thailand. The UK, with 119 578 vehicles, was South Africa's top destination for vehicle exports in 2018. Exports to this country reached 98 358 vehicles in 2017.
Mercedes Top Vehicle Exporter
Mercedes-Benz South Africa (MBSA), with its locally produced C-class, continued to be the pacesetter in terms of vehicles exported in 2018, followed by Volkswagen and Ford.
With almost 99 000 vehicles exported in 2018, it means MBSA was responsible for 28% of all new-vehicle exports from South Africa in 2018 – or more than one in four vehicles.
The high-value, logistics-friendly catalytic converters, with an export value of R19.2-billion, remained the most popular components exported last year, followed by engines and engine parts and tyres.
The EU and Africa
The trade arrangement that South Africa enjoys with the European Union (EU) continued to allow for duty-free vehicle and automotive components exports to the 28 countries in the EU in 2018.
The EU, receiving automotive exports valued at R105.2-billion in 2018, or 58.8% of the total export value of R178.8-billion, was the South African automotive industry's main export region in 2018.
Africa was the industry's second-largest export region, with an export value of R31.69-billion, or 17.7%, of the total export value.
Vehicle exports to 33 African countries increased only marginally from the 21 847 units recorded in 2017 to 23 988 units in 2018. South Africa's top export market in Africa by value was Namibia, followed by Botswana and Zimbabwe.
Africa remains a priority focus for the South African automotive industry, given "the huge potential" of the continent, with its population of 1.29-billion people and a low motorisation rate at 42 per 1 000 persons, compared with the global average of 180 vehicles per 1 000 persons, says Lamprecht.
"Regional integration in Africa could unlock many opportunities for South Africa," he adds. "The elimination of trade barriers, as well as possible partnerships with other countries in Africa interested in developing their motor industries, would provide opportunities of mutual benefit for the domestic automotive industry."
Imports from India
On the import side, the top country of origin for vehicle imports in 2018 was India yet again, with 98 586 units, or 33.8% of the total passenger cars and light commercial vehicles imported into South Africa.
India excels at producing small cars, with Volkswagen's Polo Vivo the only vehicle in this segment manufactured in South Africa. While India may have the numbers, the value of vehicle imports from Germany, which included premium brands, was almost double those from India. Germany was followed by Thailand in the rankings for imports by value.
Thailand is a one-ton-bakkie hub, and sends a number of fully built-up vehicles to the local market, as well as parts to the local bakkie plants. Total vehicle and automotive components imports, excluding aftermarket parts, reached R162-billion in 2018, down from R178.8-billion in 2017.
Competitive Local Market
The trading environment in South Africa is extremely competitive, notes Lamprecht.
"Last year offered no fewer than 49 passenger car brands and 3 716 model derivatives, the widest choice-to-market-size ratio anywhere in the world.
"Similarly, in the light commercial vehicle segment, there were 30 brands, with 656 model derivatives available to local consumers.
"The Toyota Hilux remained |the most popular vehicle sold in the South African market in 2018, with sales of 40 022 units."
Although South Africa's automotive industry is significant in the context of the country's economy and also in the African context, accounting for 54.3% of the continent's vehicle production in 2018, the industry remains relatively small in the global context.
South Africa, with production of 610 854 units in 2018, was ranked twenty-second in respect of global vehicle manufacturing, with a market share of 0.64%.
Looking Ahead
There are many challenges the local automotive industry has to confront on a daily basis, both domestically and internationally, says Lamprecht.
Current trade tensions between the world's largest economies are creating uncertainty and have a direct, as well as indirect, impact on the domestic automotive industry.
Currency volatility and increased protectionism, as well as fiercer competition in export markets, are examples of the impact, explains Lamprecht.
Brexit remains a challenge, as it is not known how this move will affect trade relations between South Africa and its biggest new-vehicle export market.
"Government and the automotive industry are closely monitoring developments around Brexit. Naamsa is positive there will be a smooth transition in trade relations between South African and the UK," says Lamprecht.
Within Africa, Morocco has also emerged as a competitive, ambitious vehicle production force that could challenge the domestic industry's dominance in terms of exports from Africa to Europe, with the North African country having quite a bit of a logistical advantage over South Africa when it comes to reaching Europe.
Despite this and other challenges, Lamprecht expects new-vehicle exports to reach yet another record in 2019, closing the year at about 400 000 units.
New-vehicle exports in the first three months of the year were already 30.5% up on the same period last year.
"We think exports will retain their momentum in 2019, even if the domestic market may not enjoy the same success," says Lamprecht.
New-vehicle sales contracted by 4.8% in the first quarter of this year, compared with the first quarter of 2018. Naamsa expects a slight improvement in the second half of the year, following the conclusion of the national elections in May.