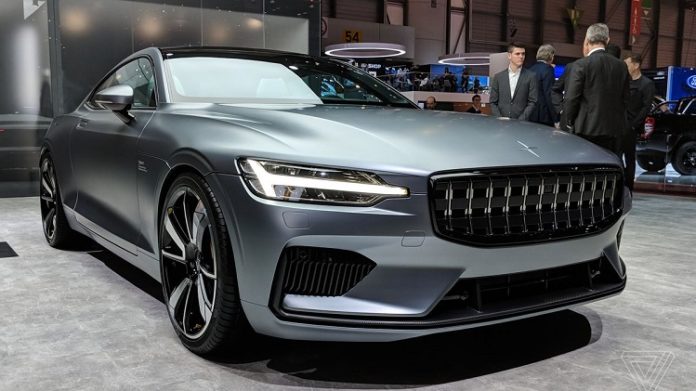 ---
The design choice is functional and aesthetic. Electric vehicles typically adopt a skateboard design, with their bulky battery packs lying flat under the floor. But that adds to the height of the vehicle, which compromises aerodynamics and driving range, said Polestar Design Chief Maximilian Missoni at Volvo's Hällered Proving Ground an hour from Gothenburg.
By removing batteries from the rear-seat footwells, designers were able to lower the height of the Polestar 2 and create a "sleek fastback silhouette," Missoni said this month on the sidelines of the facility's handling track. The battery layout also allows passengers to sit more comfortably, while the tunnel design acts like a raised center console and gives the performance sedan a cockpitlike interior.
The Polestar 2 is crucial to achieving Polestar CEO Thomas Ingenlath's goal of making the brand profitable in five to seven years and reaching annual global sales of more than 100,000. Polestar expects to build about 50,000 Polestar 2s in its first full year.
"Polestar 2 is the car that will define the brand," Polestar COO Jonathan Goodman at the auto company's boxy, three-story headquarters building here.
The $63,000 sedan is part of an ambitious product portfolio for Polestar, bookended on the other side by the $155,000 limited-run plug-in hybrid Polestar 1 coupe. Other models will slot in between, including the Polestar 3, a crossover coupe based on the next generation of Volvo's Scalable Product Architecture platform. Production of that vehicle will begin at the end of 2021, with U.S. arrival in summer 2022.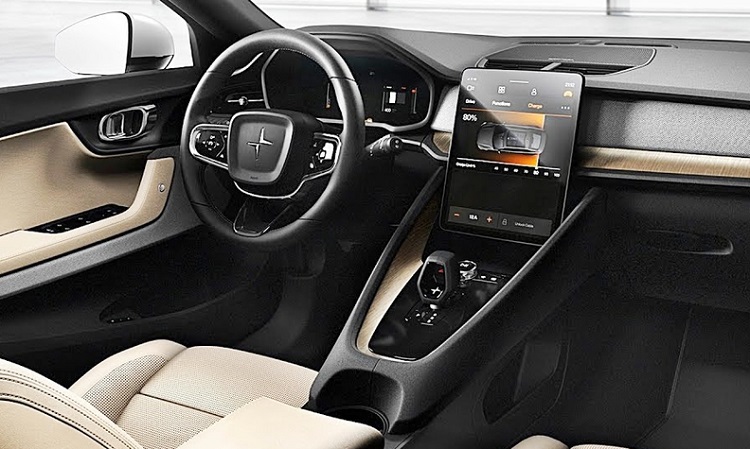 Sedan strategic
"Polestar is the right brand at the right time," Goodman said. "The battle for us over the next 12 to 18 months is to get the notoriety out there, to be impactful with the marketing and events that we do, and create the level of interest that we require to get to the volume objectives that we've got."
While launching a sedan in a crossover- mad world might seems counterintuitive, Polestar executives point to the sales success of Tesla's Model 3 as proof of demand for a high-performance, well-designed electric sedan.
Polestar's choice to go with a sedan was also strategic. Established automakers such as Jaguar, Volkswagen and Mercedes-Benz are already focused on the electric crossover segment. The Swedish newcomer would prefer to avoid that knife fight for now.
"I'm very pleased to be launching a fastback car which offers an alternative to the Tesla Model 3, where there will be no other alternative for the next 18 months," Goodman said. "Sometimes, it's quite nice to be not like everybody else."
Goodman is confident Polestar has nailed the timing, as EVs capture customer imagination and charging infrastructure is expanding. EVs are expected to account for 57 percent of global passenger car sales, or 56 million vehicles, by 2040, according to Bloomberg New Energy Finance.
"We have no legacy to worry about," Goodman said. "If I'm a big OEM, one of the things I would have to wrestle with is, 'How do I promote my electric vehicles while at the same time doing 80 percent of my volume with more traditional engines?' We are all-in on electrics, so we can be very unequivocal in what we say about the cars and how we believe in them."
At the same time, Polestar is itself part of an old established automaker in Volvo, which offers Polestar deep pockets and resources — in addition to having entree into the Chinese market through Geely. "We can be in China, we can be in Europe, we can be in the U.S. at the same time," Goodman said.
U.S. rollout
One thing Polestar doesn't have is a solution to global trade tensions. Those could confound the upstart's global ambitions — especially its U.S. rollout. The company plans to build its vehicles in China, which is in a tit-for-tat tariff war with the U.S. The Trump administration has threatened to levy tariffs of up to 25 percent on an additional $300 billion worth of goods imported from China.
Company executives said they've priced their vehicles to factor in current U.S. tariffs on China-made vehicles. But if tariffs change, "We'll have to reevaluate everything," Polestar USA chief Gregor Hembrough.
Geographically diversifying production would offer some insulation from a U.S.-China trade war, but Goodman waved away that prospect. "As soon as you start doing that, you're into double tooling, and the costs are very high," he said.
There have been about 2,000 preorders for the Polestar 2 globally since reservations opened in late February. The company declined to say how many of those reservations are from the U.S. but noted early interest is coming from EV-friendly California and the Northeast.
The U.S. marketing offensive, which begins next month, will be more sniper-shot than spray-and-pray. Don't expect a Polestar commercial during the Super Bowl, Hembrough said. "This is not going to be a brand for the masses," he said.
Starting in July, Polestar will launch "highly experiential type of activities," such as a roadshow where the public will have an opportunity to interact with the vehicle. Test drives will not be offered initially.
The Polestar 2 is benchmarked against the Tesla Model 3, but Hembrough doesn't expect to lure Tesla customers in the near term. "Model 3 owners are only 12 to 14 months into their ownership," he said. "I don't think they are going to be defecting at this early stage."