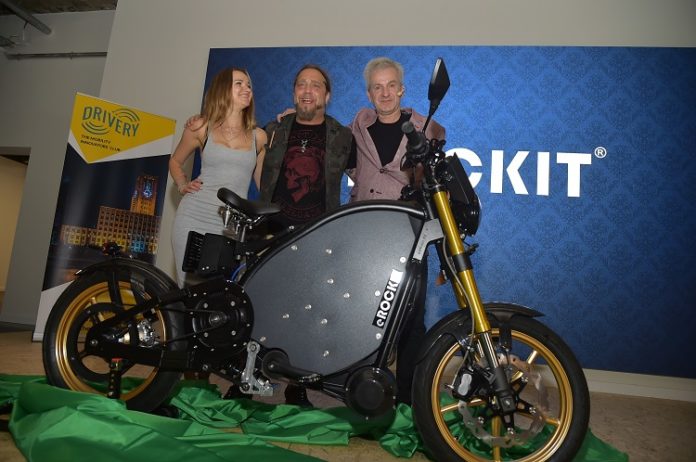 ---
Flashes of lightning and prominent guests in the Berlin Ullsteinhaus! In "TheDrivery" the launch of the 2019 series of eROCKIT was celebrated. The unique, pedal-powered electric motorcycle stands for gigantic acceleration, 100% driving pleasure at 0% emission. The VIP guests of the evening like Berlin's Mayor Michael Müller, rock star Martin Kesici, the actors Bruno Eyron, Axel Pape, Bulent Sharif, media expert Prof. Dr. med. Jo Groebel, Eduard Prinz von Anhalt and singer Doreen Steinert were enthusiastic about the award-winning design and the appeal of the eROCKIT in the world of electromobility.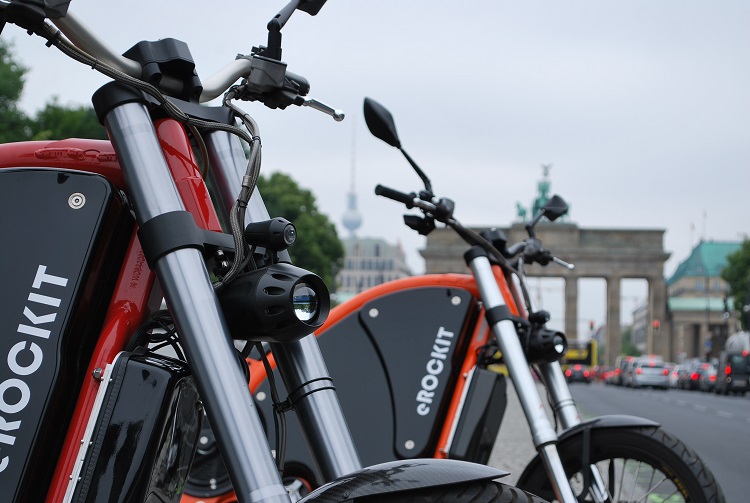 The eROCKIT vehicle concept puts people at the center of the mobility of the future. The innovative, clutch-free direct drive of the eROCKIT intelligently adapts to the intuitive pedal control. The operation of the eROCKIT is very simple: The human pedaling, depending on the driving behavior of his muscle power is multiplied by a factor of 50 and makes the driver with an indescribable, magical driving experience. The eROCKIT is thus a human hybrid.
With a top speed of over 80km / h, a battery life of over 120 kilometers and a charging time of four hours on the normal household socket, the eROCKIT is the ideal vehicle for commuters, business and leisure. Andreas Zurwehme (Managing Director of eROCKIT Systems GmbH):
"We have set ourselves the goal of making our world better! EROCKIT has the power of change: it shows that sustainability is not a renunciation but an enrichment."
The eROCKIT is developed and produced in Hennigsdorf near Berlin, Germany. The vehicles of the 2019 series can be ordered for € 11,850 at www.erockit.de.

eROCKIT Facts:
– Brushless, permanent magnet synchronous motor with 16kW peak power
– Battery capacity 6.6 kWh
– Top speed 88 km / h
– Range 120 kilometers
– Aluminum frame
– Alloy rims – Carbon components
– Telemetry app
– Weight 120 kg
eROCKIT Systems would like to thank its partners and sponsors of the Launch Party: TheDrivery, Beets & Roots, BVG, HELD Biker Fashion, Louis Motorcycle, Schuberth, 360WeAre, SNG.AG, Plumento Foods, Naturstrom, FaSTTUBe
About eROCKIT:
The eROCKIT Systems GmbH develops and produces electric vehicles in Hennigsdorf near Berlin with a team of international two-wheeler experts. eROCKIT is a pedal-operated electric motorcycle equipped with the latest battery technology. eROCKIT® and Human Hybrid® are registered trademarks of eROCKIT Systems GmbH. 
The Investment Bank of the State of Brandenburg (ILB) supports eROCKIT Systems GmbH through the promotion programs "Brandenburg Innovation Certificate (BIG F + E)" on behalf of the Ministry of Economic Affairs and Energy of Brandenburg (MWE) as well as "Foundation innovativ" on behalf of the Ministry for Work, Social, Health, Women and Family (MASGF). Funding is provided by the state of Brandenburg or the European Regional Development Fund (ERDF). 
The aim of the funding programs is to strengthen the innovative capacity of companies in the state of Brandenburg, such as e-mobility startups. The projects are titled "Development of a new battery plus software" and "Pre-production setup and creation of vehicle scaffolding". EROCKIT Systems GmbH is a member of the Bundesverband Deutsche Startups eV