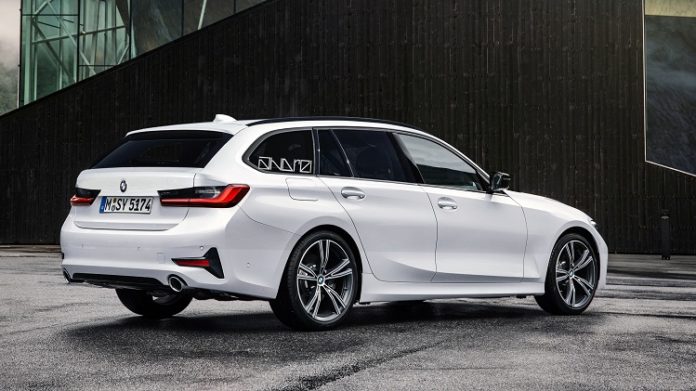 ---
Just like its saloon sibling, the new 3-series Touring is larger than the car it replaces, if only be small amounts. its wider – by 16mm, a tiny 11mm higher and longer by a huge 76mm.
The wheelbase distance is also 41mm longer, so we anticipate plentiful room inside for everything the aspiring 3 series owner would want to carry. Despite these changes BMW says the estate is actually lighter than before, slimming down and shaving off 10kg compared to its for-fathers. Body rigidity is up by 25%, and the weight is balanced perfectly at 50:50 –  assuming you have an empty boot. If not, that does change a little and moves some of the weight balance back to the rear.
The new touring will come in SE, Sport, M Sport ranges. Each level things change and the M Sport adds a high-gloss trim, a black kidney grille, high-gloss black air intakes and a rear diffuser in Dark color. Its called Dark Shadow which we think is probably quite dark and glossy.
Given the UK car plant problems in recent times, we are sure that BMW are gearing up to sell more into the UK in the event of a successful Brexit. Closures of Honda, Swindon and the fear around the new Astra could add up as a bonanza for the German car manufacturers.
Some industries in the UK like diesel generators are still performing well, whereas others are struggling. Turnkey projects is becoming hard, despite the UK governments infrastructure investments. BMW has not yet announced when the car will come to east Africa, but likely in early 2020.