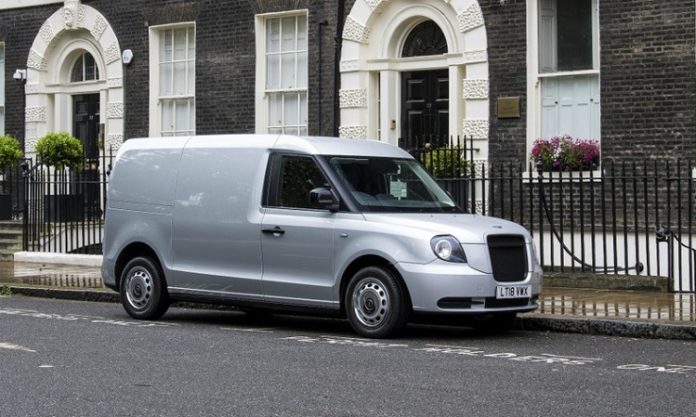 ---
"London and the UK will be first to market, then we will extend the vehicle to Europe and further afield. Our goal is to be the leading European electric commercial vehicle provider," LEVC CEO Joerg Hofmann said in a statement.
LEVC says it has now delivered almost 2,000 of its TX taxi, mainly to drivers in London. The TX uses Volvo-sourced technology such as a 1.5-liter three-cylinder plug-in hybrid drivetrain within a bonded aluminum body. The van would be built in the same UK factory in Coventry.
Competition for the LEVC van includes Ford's midsize Transit Custom plug-in hybrid van, which arrives later this year. Ford will also sell a fully electric van in 2021 to join Street Scooter, a company set up by the Deutsche Post DHL Group, which has a partnership with Ford.
Next year PSA will launch a range of electric vans starting with Opel/Vauxhall,while Volkswagen is preparing to launch its ID Buzz electric cargo van and minibus in 2022. VW briefly showed the Buzz in a recent ad in the U.S.
The addition of the gasoline engine for the LEVC van will make it more attractive to van operators who need the extra range to load at out-of-town depots before returning to the city center. Once they reach a zone restricted to ultra-low emission vehicles (usually those rated at emitting less than 75 grams per kilometer of carbon dioxide) the van will activate an EV mode that cuts out the gasoline engine.
The London borough of Hackney was the first district within London to restrict access to certain streets to plug-in vehicles only. Madrid also operates an ultra-low emission zone within its center.
LEVC had originally planned to begin sales of the van later this year but announced in January that it would delay the launch. "Like the rest of the industry, we are facing a number of macro challenges, stiffer competition and developing technology," said the former LEVC CEO, Chris Gubbey.