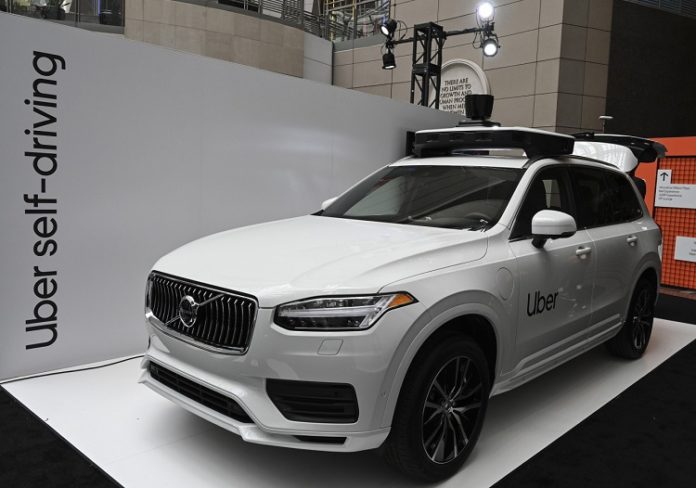 ---
Volvo and Uber have presented the jointly developed the car that Uber will use as platform for rise sharing services. The car is already capable of self-driving but will be further refined by Uber.
Uber and Volvo Cars entered a joint engineering agreement in 2016 and have since developed several prototypes aimed at accelerating the companies' self-driving car development. The Volvo XC90 SUV now presented is the first production car that in combination with Uber's self-driving system is capable of driving automated.
The basis vehicle is equipped with safety features that allow Uber to install its own self-driving system, enabling the possible future deployment of self-driving cars in Uber's network as an autonomous ride sharing service.
The most important features of Volvo Cars' autonomous drive-ready production vehicle include several back-up systems for both steering and braking functions as well as a 12V back-up battery. If one of the primary systems should fail for some reason, the back-up systems are designed to immediately bring the car to a stop.
The car has a 360° near-field perception capability, provided by an array of ultrasonic sensors and cameras, the latters equipped with self-cleaning nozzles.
Upon delivery to Uber, the ride-hailing company will add additional features such as an autonomous driving computer and a sensor kit that enables the vehicle to drive fully autonomously (Level 4) in urban environments. This sensor kit include a roof-mounted rotating lidar sensor as well as additional cameras and radar sensors.
When paired with Volvo's vehicle platform, Uber's self-driving system may one day allow for safe, reliable autonomous ride sharing without the need for a Mission Specialist, the specially trained Uber employees operating and overseeing the car in areas designated and suitable for autonomous drive.
The autonomous drive-capable production vehicle revealed today is part of Volvo Cars' 2016 commercial agreement with Uber for the delivery of tens of thousands of autonomous drive-ready base cars in coming years. In a video , Volvo explains that it is developing a similar vehicle concept for the introduction of its future autonomous drive cars in the early 2020s. These technologies, to be introduced on the next generation of Volvo models based on the SPA2 vehicle architecture, will include features designed to enable unsupervised autonomous drive in clearly designated areas such as highways and ring roads.