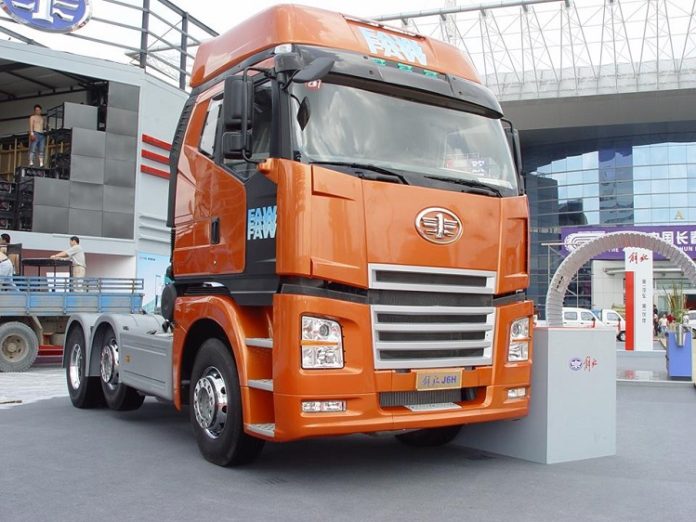 ---
ransafrica Motors Limited (TAM), a leading motor vehicle dealer in East Africa specializing in global brand FAW, has opened a new state-of-the-art showroom in Nairobi. The new facility is located on Enterprise Road, off Mombasa Road. TAM serves its customers countrywide from its strategic branches located in major towns across Kenya – Mombasa, Nairobi, Nakuru, Eldoret and Kisumu.
Transafrica Motors has invested $2 million in a new showroom for its Chinese trucks franchise First Automotive Works (FAW) in Nairobi's Industrial Area as part of its expansion plans.
FAW (First Automotive Works) is a Chinese state-owned automotive manufacturing company founded in 1953. Its principle products are buses, light, medium and heavy duty trucks. It became China's first automobile manufacturer when it unveiled the country's first domestically produced passenger car and is one of the big four Chinese automakers.
The motor dealer does not report its sales performance but trucks of 3.5 tonnes and above are among the fastest-selling and account for about 40% of all orders in the new vehicle segment, according to data from Kenya Motor Vehicle Industry Association (KMI).
"We have invested $2 million to put up this showroom for FAW trucks. It is part of our continued investments in our vehicle brands," said Ali Zubedi, Transafrica's Managing Director.
Upcoming policy changes are, however, set to benefit the FAW trucks business the most as local assemblers of commercial vehicles get more protection and incentives from the government.
Tranasfrica in 2014 invested $7 million in an assembly plant in Mombasa with a capacity to produce 600 FAW trucks per annum. The company says it plans to invest an additional $12 million to scale up capacity of the plant to 2,000 units in the near term in response to increased demand.
The draft of the National Automotive Policy says the government will give priority to the production of commercial vehicles (buses, trucks and minibuses). The document, for instance, proposes a total ban on importation of used fully built commercial vehicles.