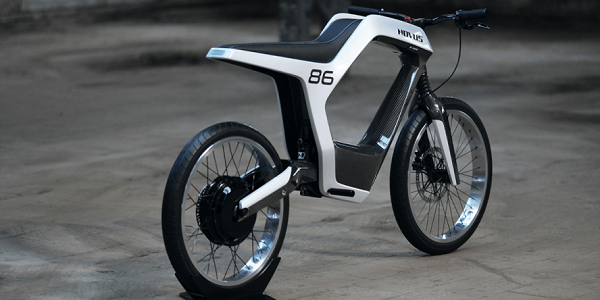 ---
At this years CES in Las Vegas, German company Novus has presented their super light-weight electric motorbike of the same name. The e-bike's carbon frame enables a distinctive design, although the price of around 35,000 euros is pretty steep.
There is no doubt that the design of this electric motorbike is a head-turner and Novus makes no secret of the bikes electric nature – where the motor and tank would normally be on a conventional motorbike, there is air here.
The extraordinary carbon monocoque-frame serves the dual function of being both an exoskeleton and the body of the bike. The material is lighter and more rigid than conventional steel or aluminium frames.
The electric motorbike is powered by a 14.4 kWh purpose-built lithium-ion battery that is centred low in the frame for easy handling and balance. The makers claim that the battery can recharge up to 80 per cent within an hour, while giving the Novus a maximum range of around 100 km. That corresponds to three hours of travel time in urban traffic.
The electric motor is integrated as well and sits inside the rear wheel rather than the frame. The bike has a top speed of 97 kph, which doesn't make it a particularly fast bike, but the very light weight of 39 kilos certainly make it manoeuvrable.
The makers claim that the motor has a torque of  200 Nm, although reviewers doubt this value since the Curtiss Zeus has a more powerful motor at 149 kW and claims 25% less torque, meaning that the Novus would have to be quite extraordinary in this regard.
Besides the design, the price is the other most outstanding aspect of this electric motorcycle. At 35,000 euros it is considerably more than the Harley Livewire at 26,000 euros, which is certainly not cheap, but still considerably less than the ultra-luxurious Vector at 117,000 euros.
Other design features include a stitched leather seat, LED lights that are discreetly fitted into the minimalist design, and a smart-phone can be integrated not only as a control and display instrument but also as a digital key.