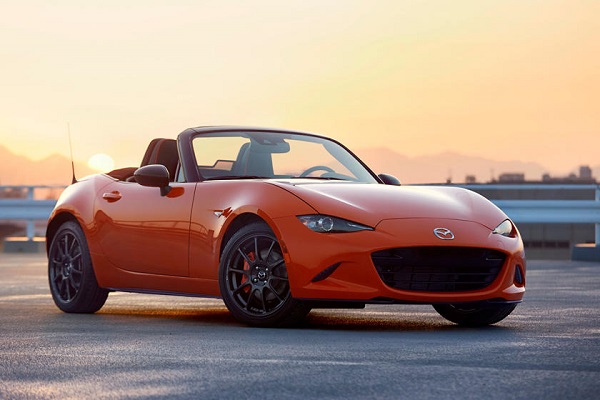 ---
Mazda revealed a new model 30 years ago, that would revolutionize the affordable sports car segment, the MX-5 Miata. To celebrate the original Miata's reveal at the 1989 Chicago Auto Show, Mazda has now pulled the wraps off the MX-5 Miata 30th Anniversary Edition at the same show. Limited to just 3,000 units worldwide including soft top and RF variants, after selling over one million units over 30 years, this 30th Anniversary Edition seems like the perfect tribute for such a legendary sports car.
So, what else do you get with this special model, besides an awesome shade of Racing Orange paint? The 30th Anniversary Edition also includes unique Rays forged aluminum wheels, a 30th Anniversary badge (with the production number out of 3,000), Brembo front brake calipers and Nissin rear brake calipers in orange, orange accents on the seats, door trim, dashboard, and shift lever, Recaro seats, Bilstein dampers (on manual models), Bose sound system with nine speakers, and Apple CarPlay/Android Auto functionality.
Mazda originally planned to use the yellow color found on the original 1989 Miata but wanted to go further than simply reusing an old color. The Racing Orange paint uses a precision blend of the pigments to create the optimum balance of chroma and brilliance.
The 30th Anniversary Edition also features subtle cues to celebrate the Miata's heritage. Those wheels, for example, were co-developed by Mazda and Rays to look like the ones used in the Global MX-5 Cup race. Soft top Japanese specification models will use 16-inch wheels while all overseas models will use 17-inch wheels.
Power remains unchanged, so the car will continue to use a 2.0-liter four-cylinder SkyActiv engine producing 181 horsepower. Preorders are available now and with just 3,000 available globally (500 of which will be sent to the US), we suggest you get your order in quickly. Pricing starts at $34,995 for the soft top and $37,595 for the RF – the automatic transmission adds around $500 but please for the love of all that is holy, get the manual.