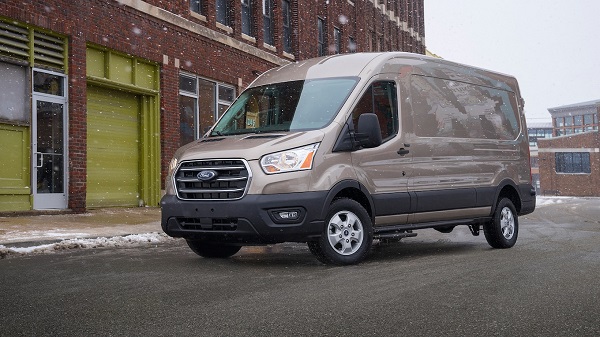 ---
Ford boasts that it has topped the van-sales charts in the U.S. for more than 40 years. That's pretty remarkable, considering that the E-Series van responsible for most of those sales has only seen four redesigns in its 58 years of production (yes, it's still in production, but only in stripped chassis-cab guise). In 2014 the Euro-designed Transit van—then a 49-year-old nameplate that was just starting its fourth generation—became Ford's mainstream van offering in the U.S., as well.
Now, rather than letting the Transit languish for 16 or 27 years like the last two E-Series generations (or 31 years like the first-gen British Transit!), Ford is keeping this Transit fresh. A major mid-cycle upgrade for 2020 modifies 53 percent of the vehicle and includes two new engines, a new transmission, the option of all-wheel drive, a slew of new driver assistance and safety systems, and a freshening of the interior and exterior that includes 28 new buildable configurations (for a total of 92!). Will these nips, tucks, and alterations keep Transit at the pointy end of the sales chart?
POWERTRAIN UPGRADES
NEW 3.5-LITER PFDI V-6
Replacing the base 3.7-liter Ti-VCT V-6 is this new port- and direct-injected gasoline V-6 engine, essentially a version of the F-150's 3.3-liter with its bore increased from 90.4 to 92.5 mm. The engine features most of the second-generation architectural upgrades recently applied to the F-150 engines and adds roller-followers to reduce friction in the valvetrain. The engine can be equipped with two 250-amp alternators to power upfit options (as can the twin-turbo 3.5-liter EcoBoost V-6, which gets auto stop/start but otherwise carries over unchanged). For now the naturally aspirated 3.5-liter is exclusive to the Transit. Final power and torque figures were not released as of press time, but given that the 3.3-liter version produces 290 hp and 265 lb-ft, it's safe to assume customers will see a comfortable bump up from the old 3.7-liter's 275 hp and 260 lb-ft.
NEW 2.0-LITER ECOBLUE BI-TURBODIESEL I-4
Replacing the 3.2-liter Power Stroke I-5 turbodiesel is a smoother, quieter, more fuel-efficient four-cylinder that global Transits (and the recent Ranger Raptor) have used for three years. It features a small turbo that builds boost quickly to eliminate the sense of turbo lag, and a larger one that does the heavy lifting at higher engine speeds. This engine also features auto stop/start. Cool fact: Its pistons are cast, cooled, and then re-melted in their forms to remove impurities. Output has not been announced, but in the Euro Transit it makes 210 hp and 369 lb-ft—again, a noticeable bump up from the 3.2-liter's 185 hp and 350 lb-ft.
Here again we have a variation on the 10-speed fitted to the F-150 pickups, with modifications primarily to suit the packaging requirements of the van. The Transit's steering rack location drove a relocation of the controller unit, and the case had to be modified to permit a direct all-wheel-drive power takeoff on the passenger side (the F-150 routes torque forward on the driver side, via a bolt-on transfer case). The gear ratios themselves are very close to those in the F-150.
ALL-WHEEL DRIVE
This single-speed system is available with either the new 3.5-liter base engine or the carryover twin-turbo 3.5-liter EcoBoost V-6. Torque is generally split 50/50, but it can send nearly all available torque to the front axle if conditions demand, and the system includes mud/ruts and slippery drive modes. All-wheel drive does not alter either the floor height/shape or the ride height.