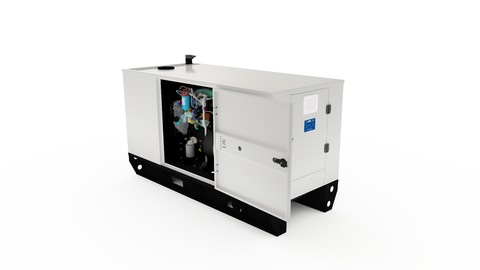 ---
An exciting new product has been launched by Welland Power Diesel Generators. The new 1900 canopy is a step change in design on the 30kVA-60kVA range of Perkins powered generators. These generators using a high quality Perkins 1103 series engine are coupled to a Stamford S0 or S1 series alternator, bringing the three iconic brands of Welland Power, Perkins Engines and Stamford Alternators together in a single package.
Promising to maintain a reliable standby power supply is critical. Welland power delivers on this using the highest quality components. Manufactured in our UK factory and shipped worldwide they form a high volume component of any dealers trading due to the unique features.

Additional features of this new design include forklift pockets, galvanized steel canopy, Deep Sea Control module and a steel welded Fuel tank. In addition these units can be double stacked in a container to provide exceptionally low landed costs to many markets around the world. In Kenya, the new 1900 series canopy will be available from Rift valley Machinery Diesel Generators in Q3 2019.
Managing Director of Welland Power, Charlie Farrow said: "This great new design has come from several months of dedicated work, testing and development. Our teams across the business functions in design, CNC operators and assembly have all contributed hugely to make this the best Welland Power product at this size to date. High quality, high availability standby power in a compact attractive and functional package. Well done everyone."