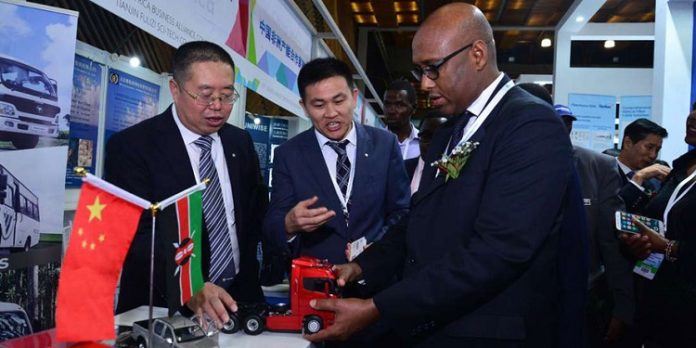 ---
Pewin Motors has inked a deal to sell and service products of Chinese Foton Motors in the Kenyan market. The deal, which extends for three years, will see Foton's light and heavy commercial vehicles displayed at Pewin's showroom on Lusaka Road, Nairobi.
Pewin chairman Peter Kirigua said the joint venture would create employment opportunities for locals across the country.
"We are looking to start with distributing 500 vehicles annually and expect a lot of government support on this," he said on Wednesday during the signing of the agreement at the China-Africa Capacity Co-operation Exposition at the Kenyatta International Convention Centre (KICC).
Tight-lipped
While remaining tight-lipped on details of the MOU, Mr Kirigua noted that the vehicles exhibited will be 20% less expensive than others of comparable features. He said the company would be looking to sub-contract dealers across the country to take the products closer to customers.
Mr Kirigua noted that most of the vehicles at the showroom, which is already operational, have been tested and proven fit for the Kenyan roads. Foton Motors opted out of an initial deal with Foton East Africa following a string of bad reputation on the later that it felt was not good for business.
Foton East Africa's multi-million-shilling Nairobi assembly plant was auctioned to repay debts, which marked the end of the distribution contract for the firm that first entered the Kenyan market in 2011. Foton Motors is owned by the government of China and Mercedes Benz of Germany.
Similar deal
In 2015, Pewin had entered a similar partnership with General Motors East Africa's (GMEA) to operate a dedicated Chevrolet brand showrooms in Karen.
The deal ended following the exit of Chevrolet from East Africa, which was soon followed by Isuzu Motors buying out General Motors' 57.7 per cent in GMEA.
The China-Africa Capacity Cooperation Exposition brings together 56 enterprises from China with the aim of exposing them to investment opportunities available in the East African market.
The exhibition targets to encourage the development of trading and business partnerships with local players, creating a multi-level, multi-industrial and multi-element display.